Sign in for the best experience
2021 Official Guide to Medical School Admissions: How to Prepare for and Apply to Medical School (PDF)
DIGITAL
Quick Download (will not put the PDF into your My Downloadable Products folder)
For the first time ever, the 2021 Official Guide to Medical School Admissions: How to Prepare for and Apply to Medical School is free for download by all who are interested in applying to medical school. From the organization that administers the ΜСΑТ® exam and the AMCAS® (American Medical College Application Service) application, the AAMC has updated this comprehensive guide as the authoritative source for information on medical school admissions for the next application cycle.
2021 Official Guide to Medical School Admissions: How to Prepare for and Apply to Medical School (PDF)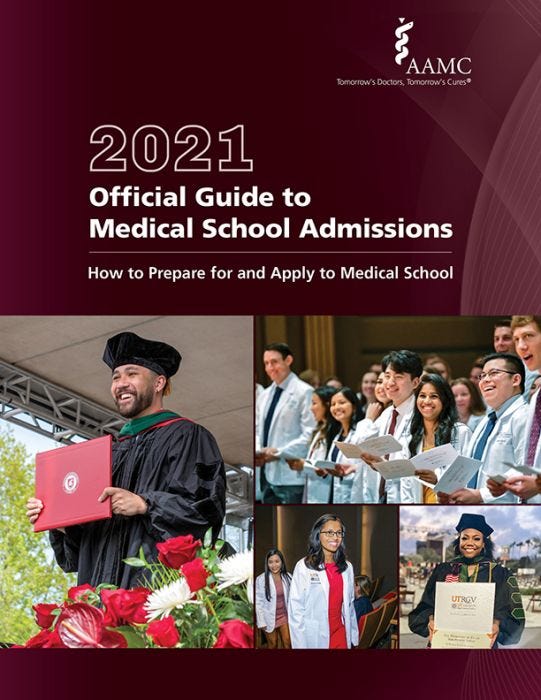 Add to Wish List
DESIGNED FOR
This official guide is must-read for aspiring medical school applicants and their advocates.
OVERVIEW AND BENEFITS
Updated for the 2022 application cycle and designed to help aspiring medical students navigate the application process, this guidebook offers exclusive insights from experts who work with the MCAT® and AMCAS® programs, including application tips and national applicant and acceptance data from the 2020 entering class. It also provides:
Chapter introductions featuring the unique perspectives of current medical students enrolled in U.S. and Canadian medical schools.
Statistics on the specialties that current medical students are considering.
Interview day tips.
Guidance from AAMC Financial Information, Resources, Services and Tools (FIRST) experts on paying for medical school.
Vital information for career changers and gap-year students.
Resources for minority applicants including information about enrichment programs.
Complimentary online access to fillable versions of the worksheets in the guide to help applicants keep track of progress and make strategic decisions during the application process.
It can be used as a companion to the Medical School Admission Requirements™ (MSAR®) website, an online database of 172 profiles of all MD-granting, LCME-accredited medical schools in the U.S. and Canada.
PRODUCT FORMAT
To download this publication as a PDF, either click the download link above or click "add to cart" and complete the checkout process to obtain the download link.
This product is currently not available in other formats.
TERMS OF SALE
This publication was developed by the AAMC to advance medical education. It is provided to the medical community at no cost for that purpose.
Please review our Frequently Asked Questions for information about our policies and processes.
The AAMC respects your privacy. Please review our privacy statement, which governs our use of any information you provide to us.
QUESTIONS
If you have questions about the AAMC Store or your purchase, please contact the AAMC Store. Representatives typically respond within one business days.
More Information

Number of Pages:

133

Year Published:

2021