Sign in for the best experience
AAMC Faculty Salary Report FY 2022 (Online)
VIRTUAL
Member pricing: $50 | Non-member pricing: $1,150.
The AAMC Faculty Salary Report provides updated compensation data from the FY 2022 survey of 153 accredited U.S. medical schools. This publication enables medical community leadership to make internal wage decisions, identify compensation trends, and develop strategic plans and budgets.
Faculty and staff at member institutions, along with medical residents and fellows, may purchase online access to this publication for $50. Please sign in for member pricing.
The AAMC Faculty Salary Report contains three years of compensation data. This is the online version of the AAMC Faculty Salary Report. The print version of the publication is no longer offered.
Are you a program or department leader? You can purchase multiple subscriptions for your colleagues. Contact the AAMC Store to learn more.
Notice
The AAMC is required to collect and remit applicable state and local sales tax on the sale of this product. Institutions with a state sales tax exemption certificate can request a sales tax exemption prior to their purchase. Learn more.
AAMC Faculty Salary Report FY 2022 (Online)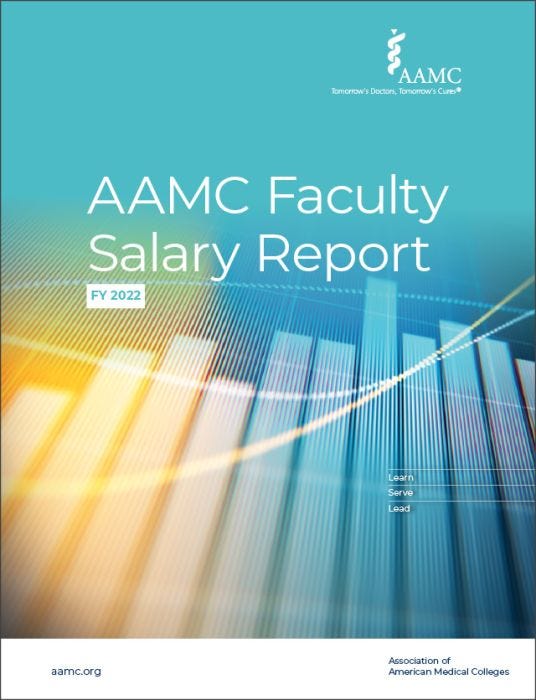 Add to Wish List
DESIGNED FOR
Designed for academic medicine professionals intending to negotiate salary or use medical school faculty compensation information for benchmarking, strategic planning, or staff hiring & retention.
This product is discounted for faculty and staff at AAMC member institutions. Additionally, this product is discounted for residents and fellows. Please sign in to the AAMC Store to access member pricing.
OVERVIEW AND BENEFITS
This report is updated annually to provide compensation data from the most recent survey results. Key features include:
Statistics for total compensation — the sum of fixed/contractual salary, medical practice supplement, and bonus/incentive pay—for more than 124,000 full-time medical school faculty.
Tables breaking out total compensation by degree, rank, department/specialty, medical school type, region, gender, and beginning with the FY 2021 data, race/ethnicity.
Tables showing the faculty count, mean, median, and 25th and 75th percentiles for each combination of six faculty ranks and 100 departments/specialties.
This online report includes three years of data (FY 2020 – FY 2022). Buyers will receive an email with access instructions once their purchase is complete.

Beginning with the FY 2022 report, the Faculty Salary Report will only be available online; a printed version will no longer be offered.
PRODUCT FORMAT
This product is accessible online only. A print version is not offered.
TERMS OF SALE
This subscription is meant for your sole, individual use. Program and department leaders can purchase multiple subsriptions to distribute to colleagues. Contact the AAMC Store to learn about our Access Code Management Tool (ACMT).
Please review our Frequently Asked Questions for information about our refund policy and other important information.
We accept Visa®, MasterCard®, American Express®, and Discover®.
The AAMC respects your privacy. Please review our privacy statement, which governs our use of any information you provide to us.
QUESTIONS
If you have questions about the AAMC Store or your purchase, please contact the AAMC Store. Representatives typically respond within one business day.
More Information
Year Published:

2023