Sign in for the best experience
AAMC Successful Medical School Department Chair Series: The Complete Set of Leading, Recruiting, and Thriving (Print)
BUNDLE
AAMC Successful Medical School Department Chair Series: The Complete Set of Leading, Recruiting, and Thriving (Print)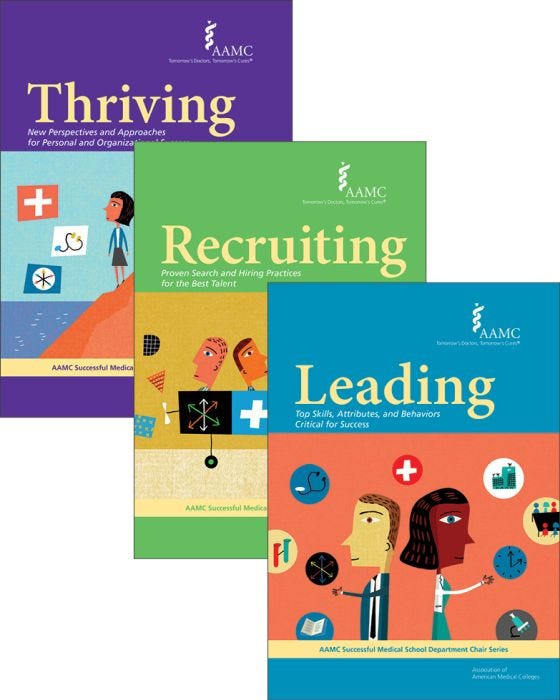 Add to Wish List
DESIGNED FOR
---
Designed for current and prospective medical school department chairs, deans, associate deans, and others who work with chairs.
OVERVIEW AND BENEFITS
---
Department chairs are the leadership "glue" that binds complex academic medical centers together. They need competencies, skills, and approaches that will harness the intelligence, creativity, and commitment of faculty, students, residents, and peers. Forward-thinking institutions recognize success depends on building relationships based on shared value and purpose.
The AAMC Successful Medical School Department Chair Series helps academic medicine professionals achieve and excel in leadership positions. The series was developed in close consultation with department chairs and thought leaders within the academic medicine community and reflects real-world insights.
This complete set contains the following print publications:
You may purchase each publication individually or purchase the complete series at a discounted price.
PRODUCT FORMAT
---
Click "add to cart" to purchase this entire bundle as printed products which will be mailed to the address you specify. 
You can also buy individual publications. 
TERMS OF SALE
---
Please review our Frequently Asked Questions for information about our refund policy and other important information. 
We accept Visa®, MasterCard®, American Express®, and Discover®. 
The AAMC respects your privacy. Please review our privacy statement, which governs our use of any information you provide to us.
QUESTIONS
---
If you have questions about the AAMC Store or your purchase, please contact the AAMC Store Customer Service Team. Representatives typically respond within one business day.