Sign in for the best experience
Education Debt Manager for Matriculating and Graduating Medical School Students
DIGITAL
Quick Download (will not put the PDF into your My Downloadable Products folder)
This comprehensive financial guide helps medical school students navigate the complexities of financing medical school through the responsible borrowing and repayment of student loan debt.
Education Debt Manager for Matriculating and Graduating Medical School Students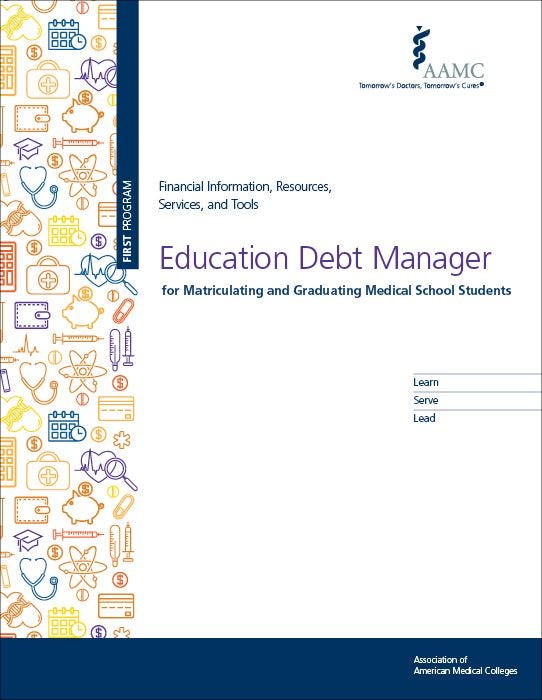 Add to Wish List
DESIGNED FOR
Designed for medical school students, residents, and financial aid staff.
OVERVIEW AND BENEFITS
This resource helps medical school students, residents, and financial aid staff navigate the complexities of student debt. Not only can this information help you borrow monies wisely, it can also enable you to make strategic repayment decisions by enhancing your understanding of important debt management skills for future use (including during the lean years of residency).
It provides insights on how to:
Understand the basics of student loans, including types of loans.
Manage existing student loans during and after medical school.
Build a budget and manage finances during medical school and residency.
Navigate repayment plan options.
Postpone student loan payments during residency.
Create a budget.
Become financially literate and use credit wisely.
Explore Public Service Loan Forgiveness (PSLF).
This is a publication of the AAMC's FIRST (Financial Information, Resources, Services, and Tools) program. FIRST provides resources, like the MedLoans® Organizer and Calculator, the AAMC Financial Wellness Program, and FIRST Fact Sheets to help students make smart financial decisions and build a successful debt management strategy.
PRODUCT FORMAT
To download this publication as a PDF, either click the download link above or click "add to cart" and complete the checkout process to obtain the download link. A printed version of this product is also available for purchase from Amazon, subject to Amazon's terms and conditions.
TERMS OF SALE
This publication was developed by the AAMC to advance medical education. It is provided to the medical community at no cost for that purpose.
Please review our Frequently Asked Questions for information about our policies and processes.
The AAMC respects your privacy. Please review our privacy statement, which governs our use of any information you provide to us.
QUESTIONS
If you have questions about the AAMC Store or your purchase, please contact the AAMC Store. Representatives typically respond within one business day.
More Information

Number of Pages:

70

Year Published:

2022