Sign in for the best experience
Official MCAT Flashcards
PRINT
Official MCAT Flashcards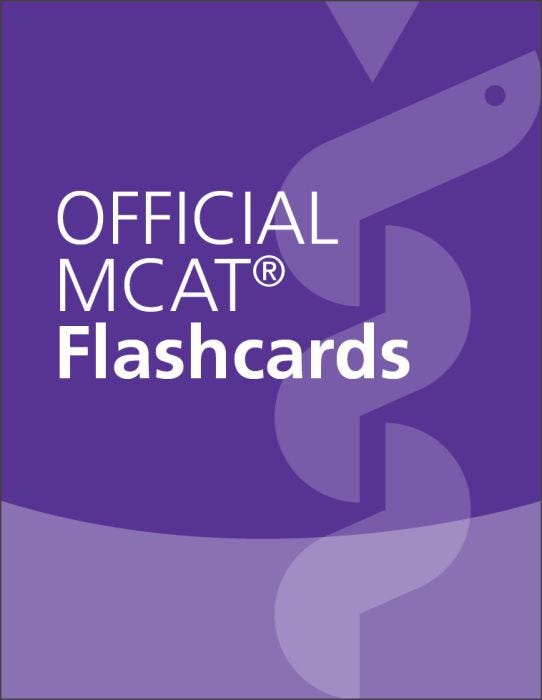 Add to Wish List
OVERVIEW AND BENEFITS
---
The printed MCAT Flashcards will no longer be available for purchase after October 3, 2022.
Each 5.5-by-4.25-inch card includes the question, correct answer with an explanation, and the Foundational Concept and Skill category assessed by the question. Two additional cards are included: one with a periodic table and the other outlining the MCAT exam's Foundational Concepts and Skills categories.
These Official MCAT Flashcards include 25 questions in each of these six disciplines:
Biochemistry
Biology
Chemistry
Physics
Psychology
Sociology
This product does NOT include online access. The online version is available by purchasing MCAT Official Prep Online Flashcards.
Please note that the AAMC Fee Assistance Program includes free MCAT Prep products in the benefit package (all online products including the Online Flashcards). Review eligibility requirements.
TERMS OF SALE
---
All sales are final for MCAT prep products. No refunds or exchanges will be issued.
If you plan to take a test preparation course, check with the course administrator before purchasing AAMC MCAT practice materials as practice materials may already be included in the cost of your course.
The Flashcards will be shipped to the address you designate at the time of purchase.
The AAMC MCAT Official Prep Hub Terms and Conditions apply to the purchase and use of this product. Please be aware that you are restricted from sharing access or the content of this product with any third party. This product is not intended for individual resale.
AAMC accepts Visa®, MasterCard®, American Express®, and Discover®.
Canadian Customers
If you are a Canadian customer or your order is shipping to Canada, please note that you will be charged an international shipping fee at the time of purchase and duties and taxes by Canada Customs. The Canada Border Services Agency provides information about relevant duties and taxes.
PURCHASE OPTIONS
---
This product is available in print format and will be shipped to you. This product is also available online.
If you are interested in purchasing this product in bulk, you may qualify for discounted rates.
QUESTIONS
---
If you have questions about the AAMC Store or your purchase, please contact the AAMC Store. Representatives typically respond within 2 business days.
Frequently Asked Questions
Can I purchase access for less than one year, or extend access from a previous purchase?
Products expire one year from purchase. We do not offer extensions, only subscriptions of one year of access. We also cannot pause subscriptions. The expiration dates for your products are displayed in the MCAT Official Prep Hub. If you purchase a product again, all previously completed activity including score reports, will still be available.
How do I access products?
Access online products at the MCAT Official Prep Hub:
1. Visit www.aamc.org/mcatprep.
2. Click on the "MCAT Official Prep Hub" on the right side of the page.
3. Sign in using your AAMC username and password.
How can I tell if the MCAT Official Prep products currently sold are the same products I already purchased?
The MCAT Official Prep products available have not been changed since their publication. You will be able to identify when new MCAT Official Prep products are introduced because of the new title, detailed description or edition.

Are these products the same products offered by test prep companies?
AAMC MCAT Official Prep products may be included in some test prep courses. Check with the course administrator before purchasing this product, as refunds and exchanges are not offered.

Do you offer any free products?
The AAMC MCAT Official Prep Sample Test is a free, full-length exam that does not provide a scaled score. It can be accessed through the MCAT Official Prep Hub in the Free Resources section. You can also check out our other free and study resources.

Which MCAT Official Prep products should I purchase?
Other questions?
For more information about the MCAT Prep products, resources, and policies, visit our FAQs.
More Information

ISBN:

978-1-57754-158-5

Year Published:

2016