Sign in for the best experience
The State of Women in Academic Medicine 2018-2019: Exploring Pathways to Equity
DIGITAL
Quick Download (will not put the PDF into your My Downloadable Products folder)
Gender equity is key to achieving excellence in academic medicine. This report will help readers understand the national setting, identify specific opportunities to foster greater equity, and create actionable plans to improve the academic medicine learning environment and workplace.
The State of Women in Academic Medicine 2018-2019: Exploring Pathways to Equity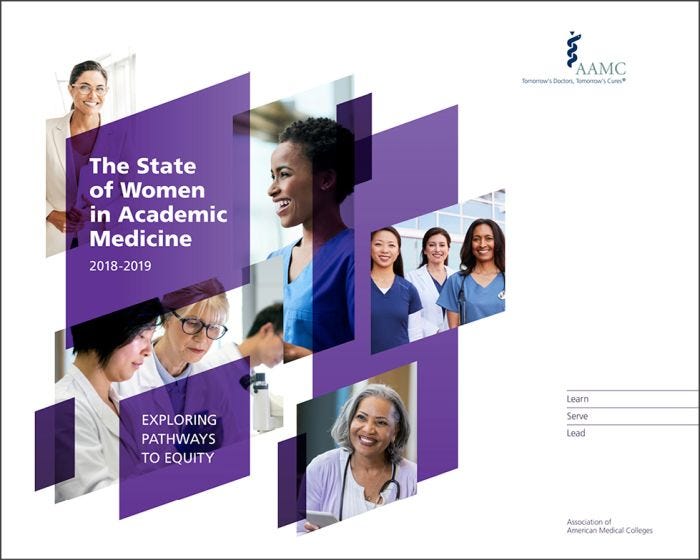 Add to Wish List
DESIGNED FOR
---
Designed for medical school department chairs, deans, administrative leaders, and others interested in advancing gender equity, and diversity and inclusion broadly. 
OVERVIEW AND BENEFITS
---
The State of Women in Academic Medicine 2018-2019: Exploring Pathways to Equity uses AAMC and external datasets to illustrate the pipeline of women in academic medicine and science. In combination, the data present a snapshot of women's representation at key junctures in their roles as learners, faculty, and leaders.
This report updates the edition of the report published in 2014. New data points include scientific trainee pipeline data by gender; center and institute director counts by gender; women in administrative faculty leadership roles across deans' offices; women in administrative staff leadership roles across deans' offices; faculty department chairs by race/ethnicity and gender; and perceptions of disrespect in the workplace.
Key findings include the following:
Women and men have continued to apply, enter, and graduate from medical school in similar proportions since 2003. Women have constituted 58% or more of graduate students in biological, clinical, and health science doctoral programs (excluding MDs) since 1994; however, in 2018, women made up just 40% of full-time basic science, clinical science, and other health science MD-PhD and PhD faculty at U.S. medical schools.
The overall proportion of full-time women faculty has continued to rise since 2009, now at 41%, with similar increases at each faculty  rank; yet, women make up a majority of faculty only at the instructor rank.
Among full-time women faculty, the proportion of women from an underrepresented in medicine race or ethnicity (URiM) group was 12% in 2009 and 13% in 2018; the greatest proportions of URiM women faculty were at the assistant professor rank.
Departments with the highest proportion of full-time women faculty were similar to the specialties with the most women residents; in many cases, those departments also had more women chairs.
Among cohorts of both new assistant and associate professors starting in 2008-2009, a larger percentage of men than women advanced after seven years. However, the gap between men's and women's advancement narrows when 10-year promotion trends are examined.
While there has been a steady rise in the number of women department chairs over the past 10 years, women still make up only 18% of all department chairs.
Women faculty leaders were more heavily represented in roles related to diversity, faculty, and student affairs and less represented in leadership roles within clinical affairs and research.
Since 2009, the number of women deans increased by about one each year, on average.
PRODUCT FORMAT
---
To download this publication as a PDF, either click the download link above or click "add to cart" and complete the checkout process to obtain the download link. This product is not presently available in alternative formats.
TERMS OF SALE
---
This publication was developed by the AAMC to advance medical education. It is provided to the medical community at no cost for that purpose.
The AAMC respects your privacy. Please review our privacy statement, which governs our use of any information you provide to us.
QUESTIONS 
---
If you have questions about the AAMC Store or your purchase, please contact the AAMC Store. Representatives typically respond within one business day.
More Information

Number of Pages:

49

Year Published:

2020